ShopCASATM is owned and operated by 3dASAP Promotional Solutions. Read the story of why we were chosen for this honor.
Why 3dASAP? ...we care!
The 3dASAP relationship was built through the grassroots network within the CASA Programs. One program at a time, we have met the current "Challenge of the Heart" for individual programs and the number of Programs and the way we serve them continues to grow and change.
3dASAP has participated in every National CASA Annual conference since 2006. By April of 2007, 3dASAP was officially provided a National CASA Trademark Use Agreement. In December 2008, 3dASAP and National CASA rolled out the new, more robust yet less expensive Each One Reach One Card Project. Participation costs for the Programs dropped significantly from $253 to $53. We made Programs HAPPY.
By May of 2010, we were honored to be chosen by National CASA to operate ShopCASA as a division of 3dASAP. Our commitment was to build on the past success of ShopCASA's low minimums and combine our low prices and industry knowledge to ensure that every need of the CASA Programs are met. Whether your needs are large or small, custom to your program or simply decorated with the nationally approved logos; ShopCASA by 3dASAP has a solution to meet your needs on timing, price, and quality. We made more Programs HAPPY.
During the development of the new I am for the Child Campaign, ShopCASA by 3dASAP at the request of the National CASA Communications Director was able to make recommendations to their advertising firm about our experience in serving the Programs needs since 2003. We understand the price sensitivity of non-profits, the value of technological improvements to make ordering quick, easy and accurate, while ensuring professional results. Our contribution included recommendations in regards to types of products, materials and designs that would improve to affordability to the Programs there by ensuring continuity of the message and extending the reach for CASA nationwide. For the first time ever, Campaign Materials were available for online customization, instant proofing and inexpensive pricing. Yes, more HAPPY Programs and HAPPY people.
The CASA Networks growing utilization of our services and your communication allows us to develop and offer new services at your request. The Spread the Word Greeting Card line, annual More than Words Calendar, State CASA Collaborative Agreements, and consignment packages for your large events are just a few of the many services provided by ShopCASA by 3dASAP that are the direct result of your dedication to our successful collaboration.
We are grateful for the opportunity to serve CASA. We are proud of what you do to support our children. As amazing as it has been, the best is yet to come. We are HAPPY too.
Go to the Top
How do I signup on the ShopCASA mailing list (to get info on great specials)?
ShopCASA Mailing List Signup!
Go to the Top
How do I contact ShopCASA?
ShopCASA Contact Info
3dASAP Promotional Solutions
Phone: 512-833-7972
E-mail:
Customized CASA Program Products
Phone: 512-833-7972 x206
E-mail:
URL:
www.shopcasa.org
Go to the Top
When will I receive my order
You will receive an Order Confirmation via e-mail. In stock items, will be shipped within 24 hours. The level of service that you choose will determine when your product(s) arrive. All UPS Service is guaranteed. Since USPS delivery time varies considerably, we recommend UPS Ground service for the most economical and reliable service. UPS 3-Day Select, UPS 2nd Day Air, and UPS Next Day Air are other guaranteed services offered; however, these more expensive service levels may not be necessary if UPS Ground will meet your needs. Please see the time-in-transit map below. For exact time-in-transit
click here to calculate UPS shipping with Zip Code
.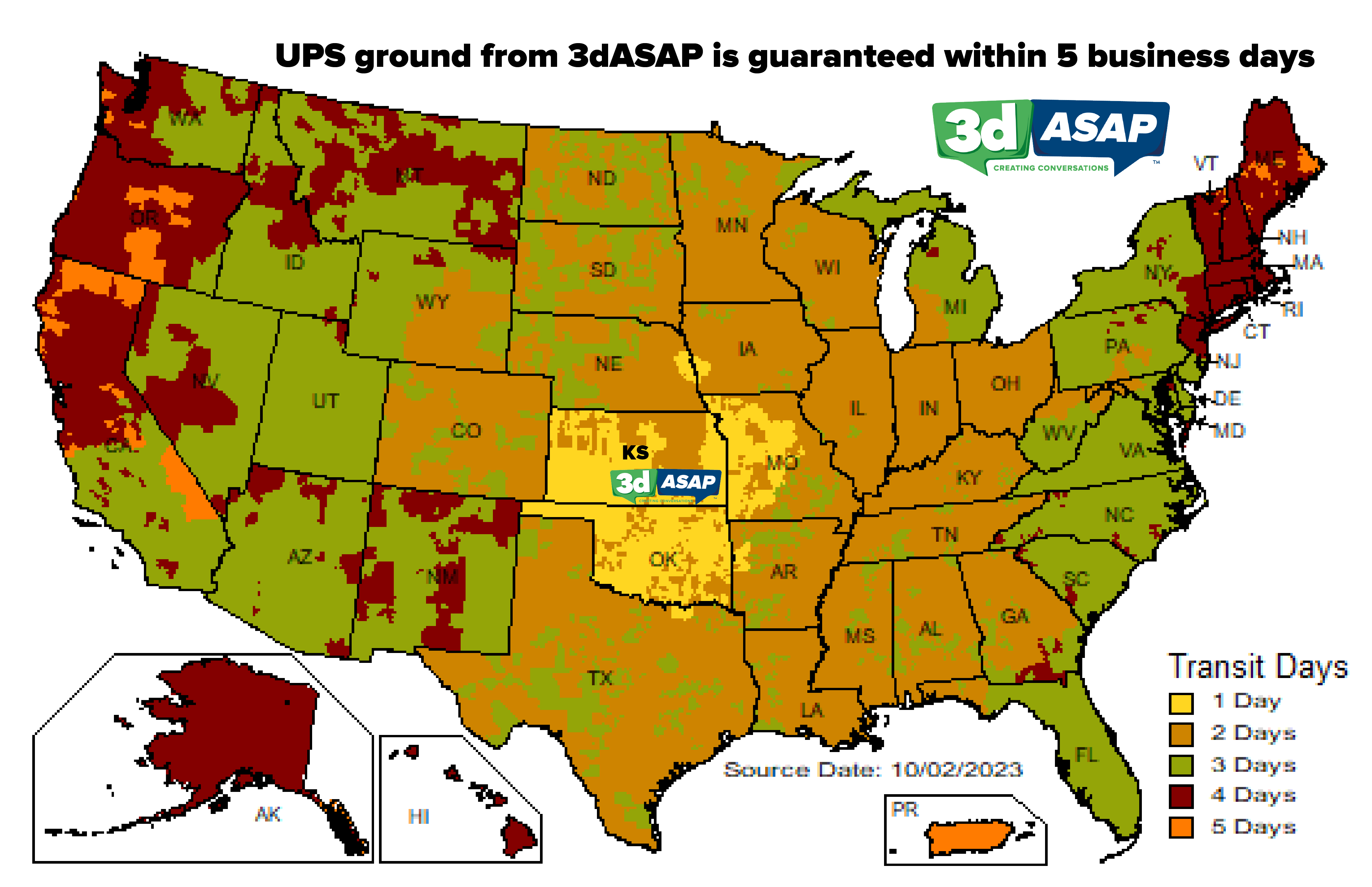 Go to the Top
How can I get a price quote for an item not currently on ShopCASA?
You may e-mail or call 512-833-7972. Also, please check out the
online catalog.
Go to the Top
Can ShopCASA products be customized for my Program, affiliates or sponsor organizations?
Certainly, we are HAPPY to help with any print and promotional product for your Program, affiliates or your supporting organizations. By referring other likeminded organizations to 3dASAP, your Program can benefit by receiving enhanced pricing and the Network will enjoy new features as we grow together. We believe in win-wins.
Please note that custom orders typically require minimum orders; however, you can rest assured that 3dASAP will provide the lowest minimums and lowest prices. Please email
Go to the Top
What is your cancellation policy?
Custom orders that have not been placed into production may be cancelled. If any charges have incurred (which may include art charges, set-up charges, shipping charges of blank merchandise to press, etc.) your refund will be calculated minus those charges. You will be notified in advance.
Blank merchandise or product imprinted with the approved logo of the National Office that has not shipped from any of our warehouses may be cancelled.
Go to the Top
How many products do I need to order?
The minimum order varies by product. Please see the individual product detail for this information.
Go to the Top
What payment methods do you accept?
We accept VISA and MasterCard as methods of payment through the shopping cart.
Go to the Top
Where is 3dASAP Promotional Solutions located?
Our office and warehouse are located in beautiful Austin, Texas.
Go to the Top
What are your hours?
Shipping, Receiving and Manufacturing
of ShopCASA inventoried items
Monday-Friday (excluding holidays)
Online Order Processing Time
in stock/ non-customized inventoried products that are received
before
Noon Central
will ship on the same day.
in stock/ non-customized inventoried products that are received
AFTER
Noon Central
will ship by the next business day.
Most
of our products that are customized online are
produced and shipped within 48 hours.
Full color production and printed products require 5-10 days for production. Specialty items or Large quantity
economy items may take longer.
Office Hours
Monday-Thursday 10am-4pm CST
Holiday Schedule (holidays that we are closed)
Shipping, Receiving and Manufacturing:
Federal Holidays
Austin Office:
Federal Holidays, Easter Monday, the day before and after Thanksgiving, the week of Christmas through January 2nd.
Go to the Top
What happens to my order after it's placed?
When an order is submitted, our warehouse is notified to package and ship your products.
Go to the Top
What is 3dASAP's Privacy Policy?
You can count on us to be respectful of your privacy at all times. For complete details,
click here for 3dASAP's Privacy Policy
.
Go to the Top
What does BEST PRICE GUARANTEED mean?
Other than being guaranteed to be a very low price....
ShopCASA is happy to offer the best price on our products- guaranteed! We will meet or beat any competitors price on the same item based on the quantity offered. The competitor must be an ASI member and have a commercial address. For more information about our Best Price Guarantee please read below.
BEST PRICE GUARANTEED (which includes all items on ShopCASA) have the following guarantee of best price:
TIME LIMIT - Price matching only takes place before the sale. It is the customer's responsibility to submit proof of lower price and a URL link must be included in the notes section of your order. Customers asking for a price match will receive an e-mail response or phone call within 24 hours to notify whether the request was approved or not. Price matches can also be verified by calling our main office. ShopCASA is not currently offering retroactive price matching.
PROOF OF PRICE - Must be verifiable from an advertised price (verbal/phone quotes not applicable for price matching) for an identical item in print or online from a competitor with a commercial address and an ASI number. All costs must be included in a competitor quote (run charges, Set up fees) with the exception of necessary 3rd party charges such as freight and shipping. Vendor must have the item in stock at the quantity being ordered.
LOCAL VENDOR VS NATIONAL VENDOR - We will price match local vendors that meet the criteria set forth in "proof of price" section.
LOW STOCK EXEMPTIONS - The ShopCASA warehouse maintains inventory based on meeting requirements to fulfill daily orders. Price matching for unusually large orders may incur a slight variance in shipping time based on the product being ordered and availability to raw materials. Price matching is also subject to competitor's ability to produce the item in the quantity being ordered. (See "proof of price")
SPECIAL SALES - Special sales and/or promotions offered by competition may be eligible for price matching and are handled on a case by case basis.
REBATES - ShopCASA will not price match products AFTER mail in rebates. Rebates are offered by manufacturers to assist 3rd parties in the sales of products.
Go to the Top
What determines Shipping and Handling costs?
Our shipping and handling charges reflect the cost of UPS Shipping, cost of personnel and products needed to prepare your products for a safe arrival. This includes packaging material, boxes, tape, labels, etc. Since ShopCASA by 3dASAP was created in 2010, shipping costs of ShopCASA have dropped by 25-30%. 3dASAP shipping costs have always reflected actual UPS/Carrier costs. We are committed to carefully monitoring these charges/costs as it is an essential component to ensure that we remain both competitive and viable resource for your organization.
Please note the following items will affect your shipping charges:
Weight and distance from our warehouse and/or manufacturing facility
Light large items may be charged dimensional weight by the carrier
Items may ship from different locations
Items weighing less than 1 pound are charged 1 pound rate by UPS
In shipping, the first pound is the most expensive with any carrier as it must cover the minimum costs they incur for handling the shipment
Ideas for reducing shipping costs:
Ask others in your office if they need anything. Since the first pound is the most expensive, for smaller orders this makes an immediate difference.
Consider upcoming events and order items you will need soon on the same order.
If you have a special request or question, please ask. Our staff will certainly do our best to help.
Go to the Top
How does FREE HANDLING work?
*Handling Details*
Several items in ShopCASA now have free handling. Before 11/28/12, free handling required a complicated formula. Now (because of upgrades to our system) handling is simply FREE on these items.
Also, Shipping is free on these items too. Any other items added to the cart may incur a handling or shipping charge.
Go to the Top
What items currently have free shipping/handling on ShopCASA?
The following items (last updated 1/8/13) have free shipping and handling on ShopCASA.
* 3dSC138 - name badges
* 3dSCGC6mon - Gift Codes
Go to the Top
What is the 3-month guarantee on retractable banners?
*3 month guarantee on retractable banners**
"Retractable banners are guaranteed for 3 months. Anyone handling your banner should use proper care in opening, closing, storing, and resisting shock to maximize banner usage."
Go to the Top
What is your return / cancellation service policy?
*Return Policy*
Our company has always been based on creating HAPPY clients. Our service policy is designed to ensure that we continue to build on this foundation while ensuring that all participants in the order process have a reasonable responsibility for their role in the outcome of the experience. You can count on us to always be more than fair.
All returns must be authorized by our office and contain a return authorization number written on the outside of each box. The correct return address for returns and a return authorization number will be provided by our office.
Blank merchandise or generic product imprinted with the approved logo of the National Office can be returned with an approved return authorization number for a refund equal to product cost minus a 10% restocking fee.
Customized merchandise is not refundable or returnable after it is produced and shipped. In the case of a damaged product or a misprinted custom product, your order will be reproduced and shipped as soon as possible. Client approved customization produced as approved is not a misprint. Customer art approval includes, in person approvals at conferences or in the traveling store, instant online proofs, emailed proofs, producing of customer supplied artwork, or approved description, which could include fonts, font size, spelling, content, etc.
Go to the Top
How long are ShopCASA Gift Codes Valid?
Purchased gift codes are valid for 6 months from the date of purchase. Purchased gift codes are invalid after 6 months from the date of purchase. Please keep track of your purchase date.
Go to the Top
Can I combine Gift Codes on one order?
Multiple Gift Codes can not be combined in one order. Please select one gift code per order.
Go to the Top
What does "Austin-Stock", "24hr ship", & "Austin-Stock/24hr ship" mean?
Some items have additional descriptions:
a) Austin-Stock (or Austin Stock) means that the item is carried in our Austin, TX warehouse, & for orders made by noon CST (sometimes as late as 2pm CST) available stock will be shipped same-day.
b) 24hr ship means that the item is typically produced in one of our factories in 24 hours, and ready to ship after 24 hrs. Any art changes will delay such an order. Occasionally our factory is out of a given color item, and we will contact you to figure out the best solution.
c) "Austin-Stk/24hr" is an abbreivation of "Austin-Stock/24hr ship". On these items for low quantities, product ships from our Austin, TX warehouse as described above in the description of "Austin Stock". For quantities that trigger a "Quantity Discount" (generally 18, 24 or 36), the items will be produced instead at our factory as described above in "24hr ship".
Go to the Top